Certification
Stand out from the crowd by proving your expertise.
Choose your pathway
There's an old saying in storytelling: show, don't tell. For those who are ready to show the world that they have the CRYENGINE skills that top game studios demand, passing a certification exam proves to prospective employers that you have the expertise that they're looking for.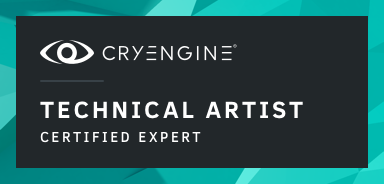 Technical Artist
Demonstrate your professional ability with rigging, importing, and testing assets for proper animation and usage to an acceptable industry standard.
Become a Certified Technical Artist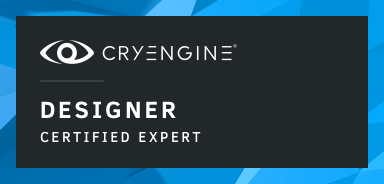 Designer
Demonstrate your professional ability in an array of game development tasks including level design, game mechanics, AI, UI, audio, lighting and more.
Become a Certified Designer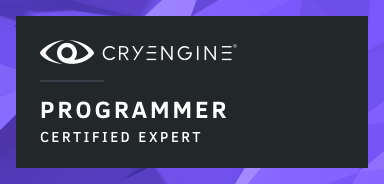 ---
Why Get Certified?
Love designing state-of-the-art games? Dreaming of working for a studio that builds the kind of games you admire? Every game studio in the world is looking for the best and brightest talent – but finding the right people is never easy.
When you pass one of the challenging CRYENGINE certification exams, your expertise becomes tangible for everyone to see. You'll receive a unique certification ID that prospective employers can use to validate your status. Your certification is CRYENGINE version-specific, and is valid for two years. You'll receive a welcome package with logos that you can use to advertise your services on your web site, your resume, in emails and social media. Most importantly, you have the option of being listed in our Certified Expert Directory.
The CRYENGINE Certified Expert Directory connects game developers with employers. It's the only place where employers can find a single list of every candidate in the world who has proven their CRYENGINE skills by passing a certified expert exam. Potential employers can search by skill and geographical region(s) in which candidates have expressed an interest in working, see the URLs of developers' web sites, and instantly contact them to find out whether they're a suitable candidate for an interview.
---
How does it work?
First, read about each category of certification carefully, and decide which is most appropriate to your skills and the kind work you do.
Next, get ready! Download the example questions, watch our tutorials, try our courses, and consult the online documentation.
Finally, once you pick your certification category, click on the Schedule An Exam button, choose a time for your test, and pay the exam fee. Tests can be taken from anywhere in the world as long as you have a computer with a web browser and a web cam, microphone and speaker so your proctor can monitor your progress.
Shortly after your exam is finished, you'll receive a response either congratulating you on passing and supplying your welcome package, or giving you the results of your exam along with some suggestions for preparing to take the test again, based on which topics you found the most challenging.
---