Exploring. Relaxing. Thinking. At first glance, those three words might sound more like an itinerary for a weekend in the country than the staples of an engrossing videogame, but one newly-released CRYENGINE project is out to prove that there's more to the medium than typically meets the eye.
Among the first games created using the CRYENGINE "Engine-as-a-Service" subscription model, ULTRAWORLD is the brainchild of James Beech – formerly a Senior Level Designer at Crytek who is now going it alone as an indie developer. And while the game is only just out of the door after two years in the making, press and players have been quick to praise its unique atmosphere and distinctive visual style.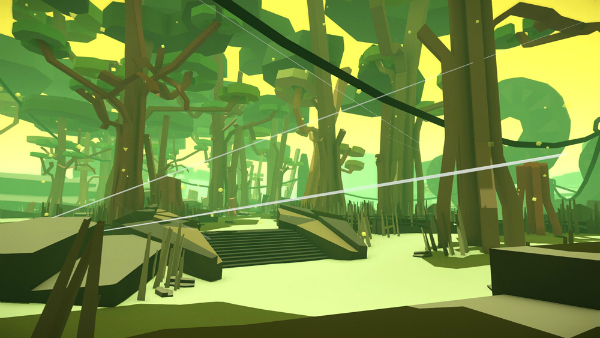 But despite Kill Screen Daily highlighting ULTRAWORLD's "magnificently constructed scenes" and PC Gamer declaring it "beautiful", James displays cautious humility in analyzing his success so far. "Player feedback has been varied; there's no universal consensus, but I'm finding most people are really enjoying themselves. I've had nothing but kind words about the art and music; people love wandering around in this world. The story, however, is an odd beast and a cause of division. Some people love it, some people don't. I knew it wouldn't be for everyone; there are countless safer stories I could have gone with instead, but I didn't feel like that would push any boundaries. I think it was a risk worth taking as it's leading to a variety of interesting feedback and interpretations. I should note that I recently patched the game to include a free-exploration mode, where the story is removed. This is for people who truly just want to relax and not listen to my words. Of course, the story mode is still there too, so I'd say it's the best of both worlds."
The story James references is the beating heart below ULTRAWORLD's captivating aesthetic. And while he's careful to avoid spoilers, the game's website states his initial intention to create an interactive narrative that "could only be told in this medium", expanding on that slightly to reveal that players will need to "help a lonely videogame character face its problems".
For James, bucking popular trends in gaming was a passion that first started as a player. "I've always been fond of awkward games. Games that don't do things the way our design books recommend, yet still somehow work as a whole. And stuff like this isn't exclusive to the indie realm, there's plenty of mainstream awkwardness too. Metal Gear Solid, No More Heroes, Alpha Protocol, and Nier all come to mind. Just weird combinations of ideas that, intentional or otherwise, create really memorable experiences for me. I'm not sure how many people feel the same way, (awkward games aren't for everyone), but I'm definitely getting the feeling that players would like more options. And with the barriers to game development lowering, it gives more people the chance to start making those new, unique games."
Also lowering his own personal barriers to game development is James' hands-on knowledge of CRYENGINE, which he earned whilst working on Crysis 3. And when the time came to bring ULTRAWORLD into being, there were plenty of reasons to continue using the technology he'd become so accustomed to – with one in particular taking top billing.
"One thing CRYENGINE does better out-of-the-box than anyone else is lighting. And I mean a lot better. The sunlight and time-of-day systems are a quick and powerful way to manipulate color in both natural and abstract manners. Outside of a few custom lights, the entirety of ULTRAWORLD is lit only by the sun. Sure, I had to tweak its properties endlessly to get all the different looks you see in the finished game, but it's still just one big light. I never had to bake anything down, or worry about overlapping light-radii; it all worked already. As an artist, that let me focus on what was really important: the art. As such, any direct follow-ups to ULTRAWORLD will be in the CRYENGINE. And, of course, what indie wouldn't love the royalty-free aspect that was added; I don't expect to be buying a Tesla off of my ULTRAWORLD earnings, so every extra dollar is welcome!"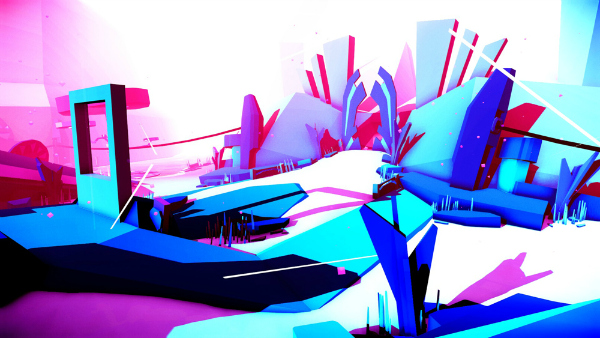 As mentioned, the visual style CRYENGINE helped James create in ULTRAWORLD has been one of the headline-grabbing aspects of the game, and it was a look he arrived at with a specific source of inspiration.
"ULTRAWORLD's visual style springs from level blockouts; the simple white-boxes that level designers like myself are accustomed to seeing. I always enjoy environments like this as they remind me of old-school 3D games like Mario 64. We lose some appreciation of that pure dimensionality as we fill the frame with details; so my goal was to make the most beautiful, well-composed blockout ever seen; to the point where you wouldn't think to call it a blockout anymore."
"Ultimately, this look was born of a desire to create something timeless. The bold, simple shapes, coupled with the lack of textures, (which age the fastest), were important in helping achieve this overarching goal. Well, at least that's my hope; that I can look back on this in twenty years and find it still holds up."
With ULTRAWORLD now complete and players starting to latch on, James is hoping to see the game greenlit on Steam – a process you can help him with by clicking here. He's also eager to take the next steps in unleashing his considerable creativity as an artist, composer and game designer.
"I'm definitely relieved to have it out there now. Not just from the sense-of-accomplishment standpoint, but also for the sake of soothing my paranoia. Towards the end, as the game was starting to look finished, I started having dreams where all my backups failed, or my main development PC died. Basically, my mind was finding all the ways everything could fail at the last minute. Thankfully, none of that craziness came true! I've never revealed this before, but ULTRAWORLD is one part of what will eventually be a larger puzzle. There are many aspects of the story that are meant to feed into something else; especially the game's ending. And the more feedback I receive, the stronger the next puzzle piece becomes."
Wherever ULTRAWORLD leads players in the future, it promises to remain a haven for anyone looking to delve into an experience that defies conventions and further enhances the diversity of the medium we all love.
Find out more about ULTRAWORLD and buy the game at visit-ultraworld.com. You can also discover how CRYENGINE is helping developers of every size achieve their vision through our monthly subscription package at cryengine.com.